[vc_row padding_top="0px" padding_bottom="0px"][vc_column fade_animation_offset="45px"][vc_column_text]
We understand that you want to know what you eat, specially when it comes to herbs and vegetables.  You want to know where it comes from and if it is safe for you and your loved ones.  What better way to be sure of this than to grow it yourself!  But in a marketplace filled with options and with as many opinions about gardening as there are grandmothers, how do you know what is best for you?
Fresh is a collection of some of the tastiest herbs and vegetables available to today's gardener.  We have carefully assembled some of your current favourites and have collected some of the best new developments in vegetable breeding and brought them all together in one great new collection.  These varieties are GMO free and are carefully grown without the use of pesticides so that you can plant your garden with the healthiest plants available.  In addition to vegetable plants, we offer a great collection of herbs to bring a compliment to the kitchen.  After all, real cooks know that there is nothing like fresh herbs to bring life to a dish!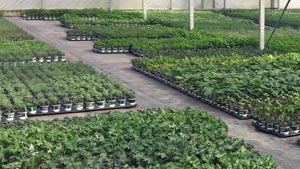 The Fresh collection is owned and produced by Vanstone Nurseries in Portage la Prairie, MB.  We are proud to supply better garden centres across the Prairie region and into Northern Ontario with premium plants.  This premium collection is available exclusively through independent garden centres who are committed to your success.  They are there to answer your questions and guide you through the exciting process of growing your own food, plants that grow well together, the best time for planting your garden and more.  Look now to find the retailer nearest you.
Check back often for helpful tips on gardening and for exciting recipes for cooking and preserving.  Also, check our plants section to find more information about each variety.[/vc_column_text][/vc_column][/vc_row]